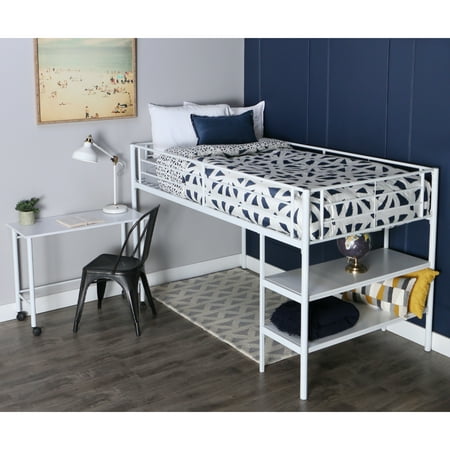 Ideal for space saving needs, this stylish loft bed is the perfect addition to your kid's bedroom. Features an integrated step ladder that can also be conveniently used to store books, toys, games, and more. This loft bed also has full length guardrails on all four side to provide your child with maximum safety and is made out of steel, for reliability. Unlike other beds, this includes a pull-out desk that can be used for work or play, with caster wheels for easy use and storage.
The bunk supports up to 250 pounds Made of powder-coated metal for a contemporary style
Support slats included, with no box spring needed This Walker Edison loft bed does not include a mattress or bedding
Mattresses sold separately.
Customer Reviews
Awesome bed, but have a friend over...trust me!
A single mom, running back and forth to check on my kids, with 2 Harrington rods in her back and loads of arthritis here. I managed, through lots of sweat and a few setbacks and maybe more than a couple swear words, managed to put this awesome loft bed together by HERSELF. I am not going to lie, it was a little hard balancing pieces and such, but the directions were very well typed and explanatory and that made it so much easier to assemble. It took me 4.5 hours on my own, and I'm sure a lot of that had to do with my physical condition. I digress, this is an amazing bed, very sturdy, super cute, and I can't wait for my daughter to see it when she gets home tomorrow from her Gigi's. Delivery was QUICK (although the FedEx guy was a jerk) and the price was pretty great, too!! I highly reccomend having a second person to assist, but if you're determined enough, you can do it on your own!!Jessica
Awesome
You'll need at least 2 people to put together 3 better ... besides that easy to put together and good quality !!! My daughter was very happy and so am I !!! Well worth the price #goodbuyLoftbed
Twin Loft Bed with Desk and Shelving
My 13 year old son loves this loft bed and the separate desk that comes with it. The bed is not too high, but the perfect mid-height for him to sit under comfortably to watch TV or play his video games. His 42" flat screen fits perfectly underneath even with sitting on a 4"platform to bring the TV off the floor. With the help of someone it is very easy to put together, and really looks great in his room. The price is right, and the loft bed is not at all cheap looking, which was a concern of mine. But, I was pleasantly surprised. Perfect for any size room, but especially one that is on the smaller size. I would recommend this item to anyone looking to make space, or just to create a fun space for the kids.Jenifer
You may also be interested in