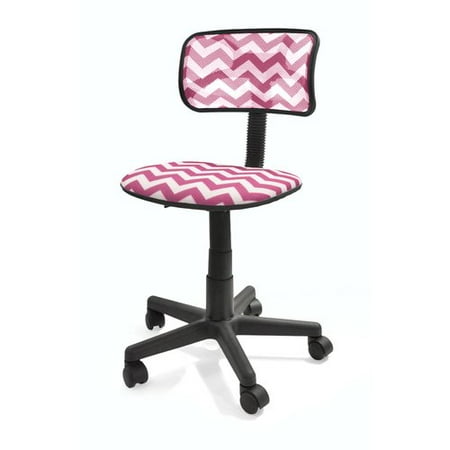 This your zone Swivel Mesh Chair is cushioned to provide all-day support. The ergonomic curved mesh back provides breathable comfort while you are working, crafting or just relaxing. This your zone chair includes a one-touch seat height adjustment, a 360-degree swivel base and back tilt for a customized fit for any body shape. The five carpet casters allow you to move about with ease on a variety of floor surfaces. The unique and compact design of these adjustable height chairs makes them ideal for use in smaller spaces such as bedrooms, dorm rooms or shared offices. This chair is easy to assemble and is available in assorted colors. The your zone Swivel Mesh Chair lends a modern touch to any space, and it will blend in flawlessly with almost any decor.
Customer Reviews
Computer Chair
I live alone and I'm physically handicapped. I had to put this chair together by myself, which was very difficult. I have physical difficulties getting up from the floor and I had to get on the floor to put this chair together. Once I got it together, it was great. I helps me tremendously. I can wheel myself around my small apartment where my computer desk is and I love the color pink, so this chair fits me exactly.
I will say this, it could have had arms. Because I am physically handicapped, I look to arms on the chair for support so I don't fall out of the chair as a result of moving around my apartment in my chair. I would say to put arms on this particular chair and keep the price down.
I'm on a fixed income and this chair fit my budget for the price, but arms on this chair would have been great. I wanted this particular chair, but couldn't afford the more expensive chairs nor could I have put them together alone either.
Overall, this chair is great for someone that isn't physically handicapped like I am. I ordered it because the price was right for my budget.
Good student chair!
I got this chair for my 13 yr old daughter to have a proper seat to practice her cello. It is perfect. Just the right size, and quite comfortable. Her cello sits perfectly in position. The seat fits her longer thigh length, the back position promotes a better posture when she is working at her desk, so it is her new desk chair as well. The height adjustment is easy, the lever both raises and lowers the seat. (Some chairs like this rotate to raise, the lever only lowers.)minelovegadgets
Dream big!
Real sturdy and so cute!Gypsysoul310
GREAT DESK CHAIR
Our 10-year old boy assembled this chair himself using the directions. Easy set-up. Got it to go with his desk in his room. He loves the adjustable seat and that it can spin. We purchased the green. I do have to say that it is NEON green. Actually, it is a DAY-GLO chartreuse (yellow-green). I cannot speak for the other colors, but it's true for the green. Much brighter than the picture. If you're okay with that, you won't find a nicer, sturdier kid/teen chair for the money.TampaGirltwo
Space Saving!
My daughter needed a space saving chair for her desk and this works perfect! The fact it came in her favorite color was a bonus!mammamom
You may also be interested in