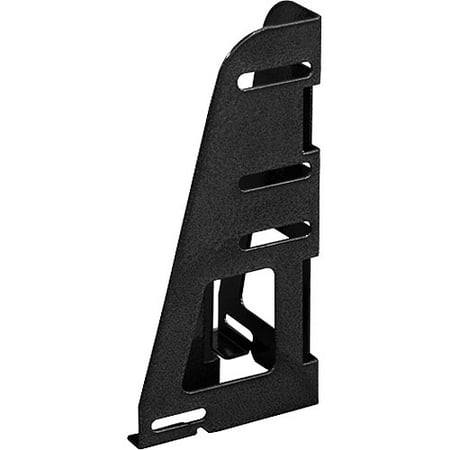 Customize your bed frame with the Spa Sensations Smart Base 4-Piece Bracket Set. It can be used with the Smart Base bed frame and is easy to assemble. This steel bracket set allows you to attach any headboard and footboard to the frame so that you can set your own style. The brackets convert the bed into an adjustable bed frame for superior versatility and convenience. Made from high-quality steel, this bed bracket is extremely strong and durable to ensure it stands up against the test of time. Transforming your bed has never been easier. This bed frame bracket is the ultimate tool to take your bed to the next level. Simple to use, it will help turn your plain frame into a luxurious piece of furniture. It can be used on different sizes of frames, making it a great choice for use in any bedroom in the home.
Customize your bed frame by attaching any headboard and footboard to the Smart Base Frame
The bed frame bracket features steel construction for extreme strength
Compatible with Zinus 14? Smartbase, Deluxe Smartbase, and Elite Smartbase
Not compatible with the 16" Deluxe, Premium 18", Smart
Base 10? and 12? and My
Euro Smart
Base.
Customer Reviews
IT WORKED!
After much fustration, my daughter called me for help. And we strarted from the top and did it in 10 minutes flat....What would she do with her mother...lol!

1. LAY THE HEADBOARD FLAT ON THE BED
2. STARE AT THE PARTS
3. MAKE SURE WHICH BRACKET SHOULD BE ON THE LEFT SIDE AND RIGHT SIDE
4. "FIRST" ATTACHED THE BRACKET TO THE HEADBOARD "FIRST"
5. ATTACHED IT (HEADBOARD/BRACKET) TO THE PLATFORM FRAME

Done!CantStopShoppingAnonymous
4pc bracket set
we bought these to go with the steel frame so we could attach a headboard to it. they are steel brackets. it is nice that you get 4 so if you want to do head and foot boards, you've got supplies. i might have liked a 2pc set since we don't plan to use all four but, it was really a good value and now we have spares!shakenbliss
Does what It should!
Wasn't sure if this would work for my headboard but it did! Holes didn't line up perfectly but we were able to attach it without drilling new holes. Very sturdy and no wiggling.Blueski
You may also be interested in