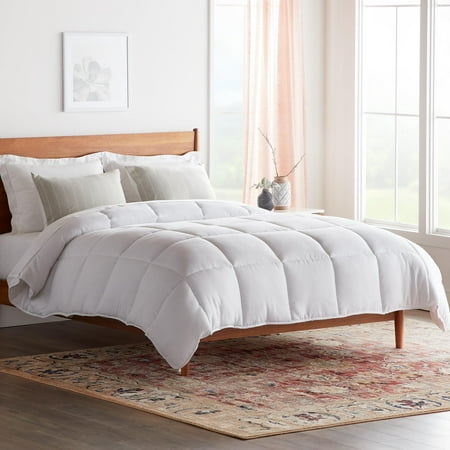 The Rest Haven Hypoallergenic Down Alternative Microfiber Comforter is plush, cozy, and perfect for anyone seeking cloud-like comfort. This product makes use of premium down alternative microfiber fill to recreate the light and airy feeling of traditional down. The down alternative microfiber fill is hypoallergenic and safe for even the most sensitive sleepers. Featuring a box-stitch design to maintain an even distribution of down-alternative microfiber fill throughout the entire comforter to prevent bunching.
Plush down alternative microfiber fill provides all the light and airy comfort of traditional down in a hypoallergenic package
Box-stitch design maintains even distribution of hypoallergenic down-alternative microfiber fill throughout the entire comforter to prevent bunching
Clever design features 8 sewn-in corner and side tabs that keep your favorite duvet cover securely in place
Keeping your comforter fresh and clean is easy because this comforter is machine washable and dryer safe on low3-year U.S. warranty protects against manufacturer defects
Queen measurements are 92 inches by 88 inches
Customer Reviews
Love it!!!
This is amazing. For the price its perfect . Not too thin not too bulky. Did have a slight chemical smell when first opened but I just threw it in the dryer for a few minutes and it came out fine. Color is true to pictureDawn
Great Comfort and Value
I had originally intended to give this comforter to my daughter. But when it arrived, the instant I opened the package and got my hands on it, I knew immediately that I wanted this for myself. This is a down alternative microfiber comforter by Rest Haven. For anyone who doesn't have experience with down, it's surprisingly soft and remarkably comfortable. Down is basically a type of very soft and fine feather from certain types of birds or very young birds. The main problem with down is that, at least some types of down, it still has the central shaft the soft down is attached to. Meaning that depending on each individual feather and the fabric of the comforter, you can get those little shafts poking out of the fabric and poking and scratching you as you're covered by the comforter. Down comforters are expensive and highly sought after due to the difficulty in producing them and how incredibly comfortable they are. But modern sensibilities has a lot of people wanting a replacement for down that's not an animal product. Instead of real down, you have a synthetic filler that is nearly as soft. Instead of a very high stitch count fabric, you get a microfiber fabric. These two features allow Rest Haven to produce an extremely plush comforter that rivals the comfort of a high quality, real down comforter, for a very reasonable price.
At first glance, it looks like it's going to be comfortable, but it wasn't until I got my hands on it that I realized just how surprisingly soft this comforter is. The micro fiber cloth gives it a smooth and cool feel against your skin. The internal padding, in the thinner outer sections of the comforter, doesn't feel much different than standard padding. But in the main area of the comforter, where the padding is thicker, it's very soft and comfortable. The padding doesn't compress like your standard padding would, giving it a softer feel instead of a hard lump once weight is put on it. The size I got was a Full, but it was just large enough to fit on my Queen size bed, although it doesn't hang over the sides much.
Overall, I really like this comforter and especially for the price. I have been using the same blanket for a number of years, but I have finally found something that I like better. Now this is going to be my comforter of choice this winter. One of the great features about this comforter is it's machine washable and comes with a 3 year warranty. I was really impressed by the quality, comfort, and value of this comforter. I can't give it any less than 5 stars.
Rest Haven, a perfect name for this comforter
This is an ideal comforter. Not heavy and not bulky. Easy to handle when making up the bed.
I like to make quilts and was thinking of making a duvet with a pieced top, but when this comforter was on the bed the first time I decided against that and wanted to see the pure whiteness and elegance of it. I have a bed skirt on my bed, and have a full sized bed, but the queen size gives it a bit more of a posh feeling to go with my Parisian theme. Since it is imitation down, I can wash it. I will use a commercial washer because of the size and cool water. It looks so feminine it should be treated tenderly. I can change the pillows with the season and with my quilts also for an accent, I am good to go with this product.. It is very hot in Florida right now, but with the air conditioner I am using this now. I feel like a young child cuddling his blankie. That is why it is called a comforter,
The light weight makes it perfect for year round use. I received this lovely comforter through the Spark Review Program and am very happy to recommend it.Magato3
You may also be interested in