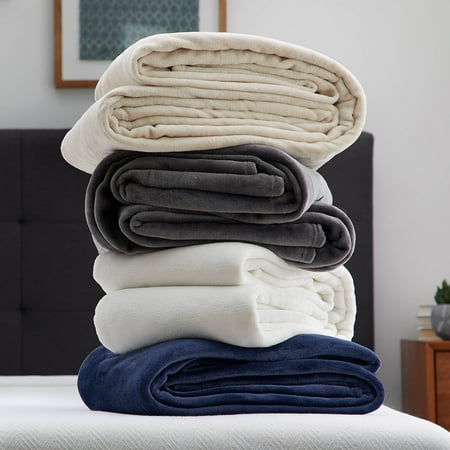 The Rest Haven Fleece Blanket is perfect for every situation that requires a cozy cuddle. This soft blanket is available in a variety of colors and sizes to accommodate every room and need. The light and breathable construction is super soft and extremely cozy for marathon comfort all day and night long. The fleece blanket is machine washable to make keeping your blanket clean and fresh easy.  
The versatile fleece fabric is soft and cozy enough to keep you warm in the winter, but light and breathable enough for use in the summer
Fleece blankets are great for use as a cozy throw blanket in the living room or as a full-time sleep blanket
This attractive blanket is available in Charcoal, Cream, White, and Navy options
Keeping your fleece blanket clean is easy thanks to a machine washable and dryer safe design
This product features a one-year limited warranty. 
Customer Reviews
Can't beat a quality bargain!
just got today for a guest room. it's the perfect summer blanket for here in sw Florida. Very soft. I bought a queen for a full size bed so that it hangs over the boxspring like a bedspread. I'll be getting a king now for my own bed.AnneCharles

Nice to the touch,bright.love itSanta
Wonderful blanket at a great price
Love love love this blanket!! So affordable, and amazing quality. It is extremely soft, washes great, and is very snuggly, but not overly hot like some fleece blankets. Perfect for use on the bed or a great living room/sofa blanket! Will definitely be purchasing another!Lauren
You may also be interested in