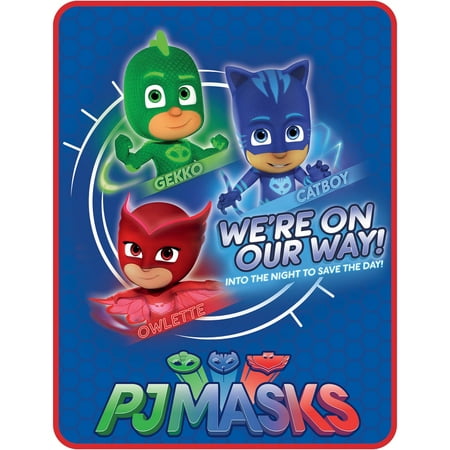 Transform your child?s room into a fun and exciting resting place with this PJ Masks plush throw. This throw features your child?s favorite PJ Masks pajama clad heroes, Catboy, Gekko and Owlette; on a blue background with the quote ?We?re on our Way! Into the night to save the day!?. The softness and warmth of this ultra plush throw makes it great for cuddling at home, naptime, reading and watching TV. Take it along on family trips or sleepovers to keep your little one warm and cozy. This PJ Masks throw makes a perfect gift for any child. Pair it with the coordinating comforter, sheet set, and blanket (all sold separately) to create a super fun bedroom. This throw measures 46?x60? and is made of 100% polyester, making washing and drying a breeze.
Throw is machine washable for easy care
Imported
Throw is super soft and plush
Perfect for staying warm and comfortable
Features PJ Masks' heroes: Catboy, Gekko, and Owlette!Your child will love this throw!
Customer Reviews
Fabulous and super soft
My 3 year-old son loves this blanket! It is SO soft and I think he is sometimes more likely to lay still in bed while snuggled up in this blanket because it feels so comfy. It's also been through the wash at least six times already and has held up beautifully. Definitely recommend for your PJ Masks fan!DHT7
The perfect throw for my Gekko-loving toddler!
This is the perfect throw for my Gekko-loving toddler! He napped with it immediately and loves to use it in his tent. As a mama, I love how cozy it is and appreciate the attention to detail with the edging on the side. It seems to be well made and will certainly be well loved in this house! A perfect gift for the PJ Masks fan in your life!Ashley
Love Love Love it
My 3 yr old loved it, the minute he seen it he knew it was his :DMelissa
You may also be interested in