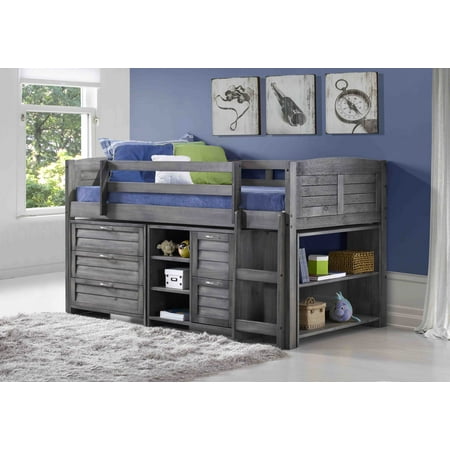 Achieve all your child's bedroom furnishings needs in one 79 inch by 41 inch footprint. Our antique grey louvered design and modern chrome drawer pulls add depth and detail to the item. The set includes a low loft mattress ready bed, a three drawer chest, a two shelf bookcase, and a fourth case with two smaller drawers and 3 shelves. Principally made of Brazilian Pine with metal and nylon euro drawer guides.
Twin sized, mattress ready, low loft bed.
Combination two drawer, three shelve cabinet.
Five spacious drawers on nylon and metal euro glides.
Built-in steps for ease and safety.
Large two shelve bookcase at the head of the bed.
Features Brazilian Pine.
Attractive louvered design.
antique grey
Chrome colored drawer pulls.