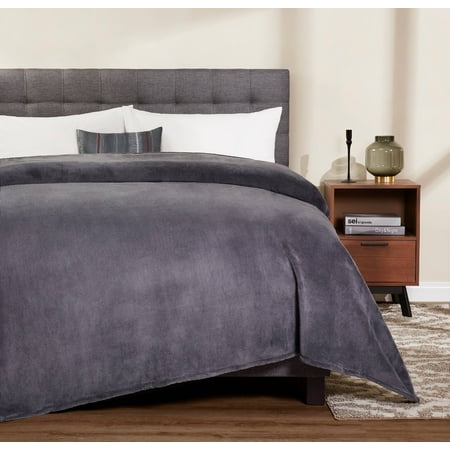 Snuggle up anytime with the Mainstays 90" x 90" Plush Bed Blanket. This machine-washable blanket is made from an extra-soft polyester fabric for a snuggly feel that keeps you warm during any season. Featuring stitch-reinforced edges for long-lasting durability, this super-soft bed blanket delivers insulating warmth and maximum comfort and perfect in any setting. Available in three sizes, choose from an array of bold colors and classic patterns to coordinate with Mainstays bedding or complement any style. Whether you need to wrap up while tailgating, need an extra layer of warmth for your bed, or need a blanket for curling up on the couch while watching TV, the ultra-cozy Mainstays 90" x 90" Plush Blanket has you covered.
Supple and cozy for a rich, warm feel
Designed in a neutral shade of versatile grey
Perfect for snuggling on the couch, napping on beds, tailgating with friends, camping out and more
Full/Queen 90" W x 90" L
Easy to care
Wash Tips : WASH SEPARATELY is highly recommended to avoid damaging the article
Machine wash in cold, separately, with mild detergent on a gentle cycle. Use only non-chlorine bleach when needed. Tumble dry separately at low temperature. Do not iron. Do not dry clean.
Customer Reviews
Super Soft!
Okay, if someone figured out how to take a marshmallow, take away the stickiness, and turn it into a blanket ..... you would have this blanket. It is almost impossible soft. Each tiny little eye lash fleece fiber is as soft as a feather. The size is generous, 90x90, which is the perfect cuddle up on the couch blanket because you can tuck it under your chin and it still covers your feet! Hooray! It is very warm and cuddly, but also super light weight. I am the kind of person that has to have a blanket on me when i'm relaxing, or I can't be comfortable. This one is light weight enough to be perfect for year-round use, even in the hottest days of summer. I got the aqua blue one with white paisley, and it is so pretty. A little more interesting than just a plain solid, but neutral enough to go with most aesthetics. It also looks super bougie just to throw in your car for a sports game or a picnic. It washes and dries beautifully, and comes out like brand new. I washed it on gentle and cold, and it only took a few minutes in the dryer on low heat. If you dry it too long, or if the heat is too high, these small fibers will melt together a little and not be quite as soft. Highly recommend!mamabayer
Super soft and cozy!
I love to use this as a throw on my bed. I can add it for an extra warmth at night, or wrap up in it when I'm reading a book. I have bought 3 soft blankets like this previously and my children laid claimed to them all. So I was excited to finally get one of my one. Very nice blanket.Fiveidahoboys
Exceptionally Nice Blanket
As a Walmart Spark Reviewer I wanted to spend a little more time trying this blanket out and washing it a couple of times. After doing so, I noticed that the Mainstays Super Soft Plush Throw Blanket holds its colors with No Fade Very Nicely . It stays extremely soft and very cozy to the touch. The blanket is made of 100% polyester and does Not shrink and cleaning is Very simple, just Machine wash ( Cold Water ) and has a very Low Lint. Not to mention how attractive it looks on my bed. I have the Mainstays Super Soft Plush Throw Blanket In The Grey Plaid Full/Queen size to give my bedroom a more rustic feel and In my opinion It Looks Fantastic. This blanket comes in a multitude of different sizes to fit your particular Bed and needs. So if your in the market for a extremely nice well made blanket, this is the blanket for you.

"Yes" I have already recommened this blanket to family members and friends and once you try it, I'm sure you will also.Leprechaun
You may also be interested in