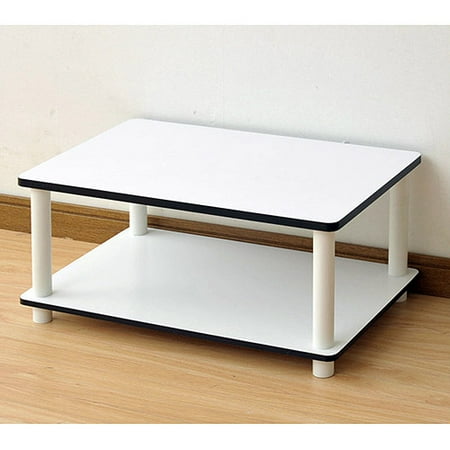 These shelves and tables feature the serenity of the Japanese living room life style. The finish of the product delivers a clean and cozy feel to blend in with any room decor. These multifunctional tables and shelves are suitable for any room that needs storage. The designs are simple and basic and fit into a modern stylish lifestyle. This series is constructed of particleboard, made from the recycled material of rubber trees.
Simple, stylish design yet functional and suitable for any room
Manufactured from high quality durable composite wood and PVC tubes
Made and manufactured in Malaysia
Fits within your space, even on a budget
Sturdy and firm on a flat surface5-minute, no-tool, no-hassle easy assembly with clear step by step manual instructions. Visual added in assembly instructions to help with better understanding
Just turn and twist the tubes against the boards and tighten them
Holds up to 20 lbs per shelf
Dimensions: 23.6 (W) x 15.6 (D) x 8.8 (H) inches
Care Instructions: Wipe clean with clean damped cloth. Avoid using harsh chemicals.Pictures are for illustration purposes. All decor items are not included in this offer.
Customer Reviews
Perfect for my use
I needed a shelf to use in an odd place and this one fit the bill perfectly. It is solid, well constructed and looks nice. Granted, I am not using it as a coffee table -- but I easily could. I wouldn't recommend it for a home with lots of wear and tear -- more like a young person's first apartment. I'm using it to create some height (and storage) on an ironing station, which probably only a quilter would understand.BitsyBit

Too small for a coffee table imagined it to be bigger also the app showed larger in 3D
Probably my mistake not checking the dimensions and relying on the 3D placement in the living roomDerrel
don't buy
very small and tiny not worth the money. I planned on using this in my personal room and wanted something I can sit on the floor and use...yeah no ill break my back bending over to use it.Jessica
You may also be interested in