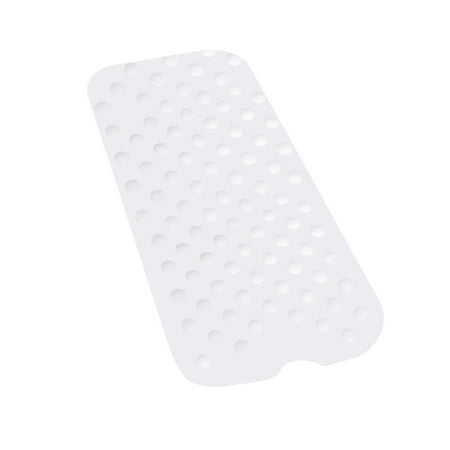 Drive Medical's bath mat holds securely to your tub with multiple suction cups, allowing for a slip-free bathing experience. The bath mat provides a large and secure surface area in the tub. Its soft rubber mat is as easy to clean and can be rolled up for storage. This product also features a contour cut out specifically designed to fit around your drain.
Extra-long bath mat adds safety and security by providing a large, slip-proof, surface in the bath
Soft rubber mat is easy to clean and roll up for storage
Mat has a contour-cut design to fit around drain
Mold resistant latex-free rubber
Overall Product Length: 35.5"Overall Product Height: 0.2"Primary Product Material: Rubber
Primary Product Color: White
Actual Product Weight: 2.4 Lbs
Overall Product Width: 15.75"
Customer Reviews
Excellent Shower Bathtub mat
I bought this Bathtub/shower mat made from Drive Medical and the first day I used it, it was amazing because it had a strong grip on the tub so it wouldn't slide like my last one did and second, I didn't slip at all while showering. This is the best shower mat I've bought to date.Trephine
Good Job mat!
Perfect size and fit for my tub . Doesn't move around or fold . Defitnetly recommend it!Cristina
Great for $10
$10 for this great product. Feel good for long standing. Color: milk, it was satisfied meBridgetP
You may also be interested in