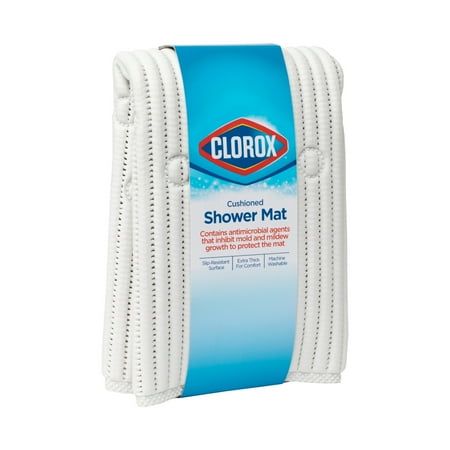 If you want comfort or safety for your shower, Clorox Cushioned Shower Mats offer both a simple and clean design. Featuring a soft, thick, cushioned surface for premium comfort, this bath mat prevents slips and falls in the tub thanks to its slip-resistant, suction cup design. Plus, this mat contains antimicrobial agents that inhibit mold and mildew growth to protect the mat so you can make cleaning quick and easy. This shower mat is also machine washable for easy cleaning. Add some extra comfort and style to your shower and add Clorox Cushioned Shower Mat to your shopping cart today!
Thick cushion for easy comfort on feet
Designed for in-tub use
Warning: not for use on textured, tiled or non-smooth surfaces. Do not use any bath oils as it may cause slipping. Hang to dry after each use.
Customer Reviews
Just what I needed
I was able to almost cover the 4 by 5 foot floor of our walk in shower. My husband has peripheral neuropathy in his feet, so I needed a good cushioned mat, These were just what I needed.
I also ordered 2 of the 36 by 17 inch mats which won't work in this shower but I will use them in 2 tubs in our home.MenagerieMom

Love it!!! Great suction, cleans easily and drains incredibly well. Because of the size of my shower I had to place it directly over the drain, but I have absolutely no problems. No pooling whatsoever, water drains straight through. Looking for the tub size one to replace the awful mat I bought for my guest bathroom.Mainegabrielle
A real Life Saver!!!
This mat has saved/relieved me from so much pain! I had colorectal surgery last week, it is one of the most painful surgeries and trying to shower and/or sit in the shower added to my pain. I was bruising on my hips, shoulder, knees due to pressure of my body against the porcelain tub. This bath mat is so cushiony soft. With a single use I could feel the difference in my body, joints, and surgical site. This mat is not only amazingly soft and plush but clean. It has built in components that help prevent mold build up! [This review was collected as part of a promotion.]Nikkisblu
You may also be interested in