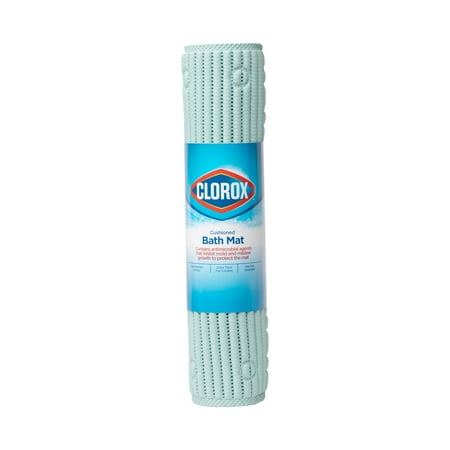 Featuring a soft, cushioned surface for comfort and safety, this bath mat is designed to inhibit mold & mildew growth to protect the mat.
Machine washable (delicate cycle, cold water) for easy care
Thick cushion for easy comfort on feet
Designed for in-tub use
Warning: not for use on textured, tiled or non-smooth surfaces. Do not use any bath oils as it may cause slipping. Hang to dry after each use.Shop Clorox Cushioned 17 In. x 36 In. Bathtub Mat, Sky Blue today!
Customer Reviews

I really like this bath mat, it is a good size for average tub and wonderfully soft to stand on; however, it can tend to "float" a bit if much water collects in tub, needs to be pressed down well.Deena
Great bath mat!
I really like how well it stays in place and it is nice and soft for my feet. I would recommend washing the mat before using it. In the packaging, it feels grainy but as soon as you wash it, it feels normal. It provides full coverage and that is so nice.MCNelson3Kiddos
Secure and well padded bathmat
This mat is padded and very comfortable. I feel very secure when using this mat, because of the number of suction cups to secure the mat to the tub. The length is extra-long and fits from the back to just before the drain, without obstructing the drain. I love that this can be washed in the machine, but I prefer to remove the mat with each shower and clean and hang it to dry.Spunky0919
You may also be interested in