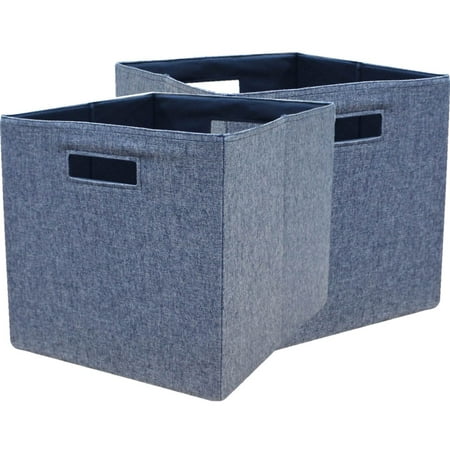 These Better Homes and Gardens Fabric Cube Storage Bins are a versatile and indispensable item for your home, office or small business. You can use them to store documents, files, toys, electronics, supplies, small equipment, clothes and much more. This storage bin set includes two units that each measure 12.75" x 12.75". They have cut-out handles to make it easy to carry and transport them. These bins are available in your choice of multiple colors so that you can enhance your interior decor a bit.
Dimensions of each Better Homes and Gardens storage bin: 12.75" x 12.75"Comes in Black Stripe, Gold Ivory, Gold Teal, gray, Indigo Stripe, Rich Black, tan, Vanilla Dream and Washed Indigo
Customer Reviews

Nice colors, quite sturdy and good value for moneyMaria
Excellent, high quality purchase!
Love these bins. They are clean and modern but also made well. The sides are rigid and sturdy enough to hold an assortment of heavy items without buckling or looking floppy everytime I pull the box out from its cubby (unlike its Ikea version made of thin, soft cardboard). These stylish bins visually spruced up an otherwise generic looking set of Ikea shelves. What a great find!andl123
Great.
Great product. Showed up on time, clean and new. I used them with the Better Homes and Gardens Cube Shelves. They fit perfectly. They seem durable enough to hold up over time. I'm using them to hold various toys for the kids (train tracks, toy horses, etc). I think the color is slightly different than what is pictured, but I guess that's the risk you take when ordering online.
You may also be interested in