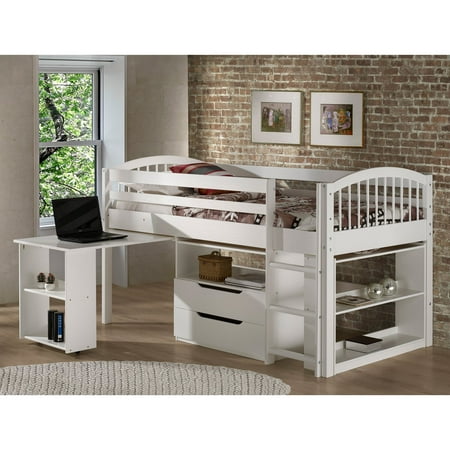 | | |
| --- | --- |
| Brand Name | Alaterre |
| Model | AJLA10WHS |
| Rating | |
| Reviews | No reviews yet |
Addison Junior Loft with Storage Drawers, Bookshelf, Desk and Tent in Pink and White Fabrics gives your child a fun place to play, work, sleep and dream. The under bed playhouse area is a great spot to curl up and read a book, set up house, be the queen of their castle or the superhero that saves the day. With the arched top they can rest in their own tent and dream of their next adventure. Bookcases and storage drawers underneath the bed give maximum storage in a small room – making the best use of small areas. The desk pulls out and can be pushed underneath the loft to keep a child's bedroom clutter free. •Arched top tent offers a safe and fun spot to rest, read and relax. •Sun, moon and stars window cut-outs •Pine construction with pink tent fabric and white trim •Mattresses can be put directly on the included slats or be used with a bunky board •Underbed Dimensions: 38" W x 74.75" L x 27" H; Loft Desk Dimensions: 36" W x 29" D x 26" H; Loft Drawer Chest Dimensions: 32" W x 16" D x 27" H; Bookshelf Dimensions: 37" W x 9" D x 27" H •Weight capacity: 175 lbs • • •This is a junior loft bed for one twin mattress; the allowable height of the mattress is determined by the dimension from top of bed foundation (slats) to top of the guardrail/bed ends. Top of guardrail/bed ends must be 5" above top of mattress. On this bed the combined thickness of mattress and foundation (if a bunkie board is used, not needed) can not exceed 8".